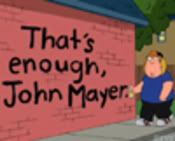 I've been writing this blog for about 4 months and when I started, I wasn't sure exactly what I was doing. I guess I was just writing weird stories and sowing those writer's oats that most people get at least once in their life. I'm not really a writer at all. I love words. I love to read. But I realize that I'm just not tenacious and I don't have that magical quality to my writing that makes a blog exponentially explode. It's a little bit of a downer.
It seems that there are two directions for a blog; gradual death or instant popularity. Maybe there are some that are in between, but in my blog lurking, I haven't seen much of it. I'm sure that doubts like mine creep into every blogger's mind. Do you keep writing even if you are unsure of yourself and your content or do you just throw in the towel and shrug that you gave it a half assed shot.
As much as I love writing about drunken Uncle Earl, animal attacks, and thievin', I'm sure the niche for those kind of stories is very minute. My friends and family that read this blog will certainly still hear those stories from me because they are just part of my conversational makeup, but is it necessary to write them for a public that doesn't read it? I only wrote for personal satisfaction, never monetary gain so I just have to decide if am I embarrassing or satisfying myself.