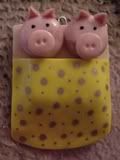 *I can't promise that this will be my last hot dog recipe.
Pigs in Cement
Ingredients:
Package of hot dogs
Box of cornbread mix
Whatever you need to make cornbread mix
Procedure:
Preheat oven to 375. Mix up the cornbread mix. I am sure the recipe is on the back of the box for you because I am always too lazy to figure that out plus cornbread mixes can vary. Pour mix into casserole dish if you have one. Cut hot dogs into whatever shape is aesthetically pleasing to you. You could do some circles or strips or logs. Have fun!
Plop those hot dogs into cornbread mix and bake until mix is cooks. Cut up squares and serve. Another super easy, cheap, and nutritionally poor meal!