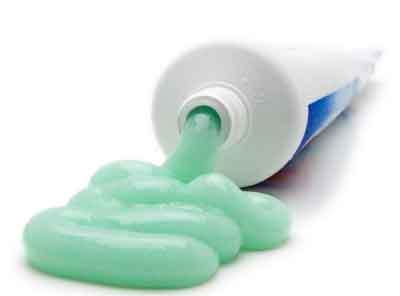 My daughter lives to do naughty things in secret. She is a loud kid, always singing or talking to herself so the minute she is silent, I know she is up to something. I often find her in corners marking up walls or sneaking a chocolate she found. When I catch her, she always says "
Nuffin
' Mommy. Go 'Way". I really thought that this was a daytime activity only, but last night, she really went big.
Around midnight, I thought I heard some movement in my bedroom. The room was dark and the kids were supposed to be asleep, but apparently
Lady A.
decided to go into the master bathroom with her owl eyes and take some toothpaste and then go into the side table drawer and take out some Vaseline. In pitch black, she managed to mix together the toothpaste and Vaseline and apply it to her skin and hair. She was giving herself a midnight spa treatment, but it ended up looking something very similar to a scene in
There's Something About Mary
.
I went and scrubbed her minty, oily head and got her back to bed. I thought I fixed the problem, but in the morning, her hair mask was still there. I tried scrubbing it again, but the soap wouldn't get it all out and she was getting angry with me for bothering her so much. I just decided to braid her wet hair tight and hope that fairies get it out during the day.
I ran some errands and took her to a play area. By this time, her braided hair was very stiff and still Danny
Zuko
looking. There were also random white paste flakes. I kept thinking as she was playing "Wow, I'm a crap mom who can't clean her own kid. I'm sure everyone is noticing that hot mess on her head". To make matters worse, there is a
Purell
dispenser at the play area and
A.
decides to get some
Purell
and rub it into her hair! Some of the moms noticed and giggled about it so I just confessed to her hair treatment at midnight. In for a penny, in for a pound, right?
I thought maybe that girl was on to something with the
Purell
. It's alcohol based and that gets a lot of stuff out. I couldn't really pump
Purell
into my hands and try and clean her right there, but I tried to discreetly use a baby wipe in her hair. That has alcohol too, I think? We drove home and she passed out in the car with her hair still firm with a variety of scents. We're going to go for hair washing #3 this afternoon. I'm not holding my breath though. Vaseline mixed with toothpaste is apparently the strongest hair style product available and I plan to market it soon.